Featured Chef
Abernethy's hosts a changing roster of Los Angeles' Emerging Chefs for their chance to showcase the unique voices, narratives, and culinary flavors of their slice of the city.
Currently in-residence, Chef Lenora Marouani with Tunisian Soul.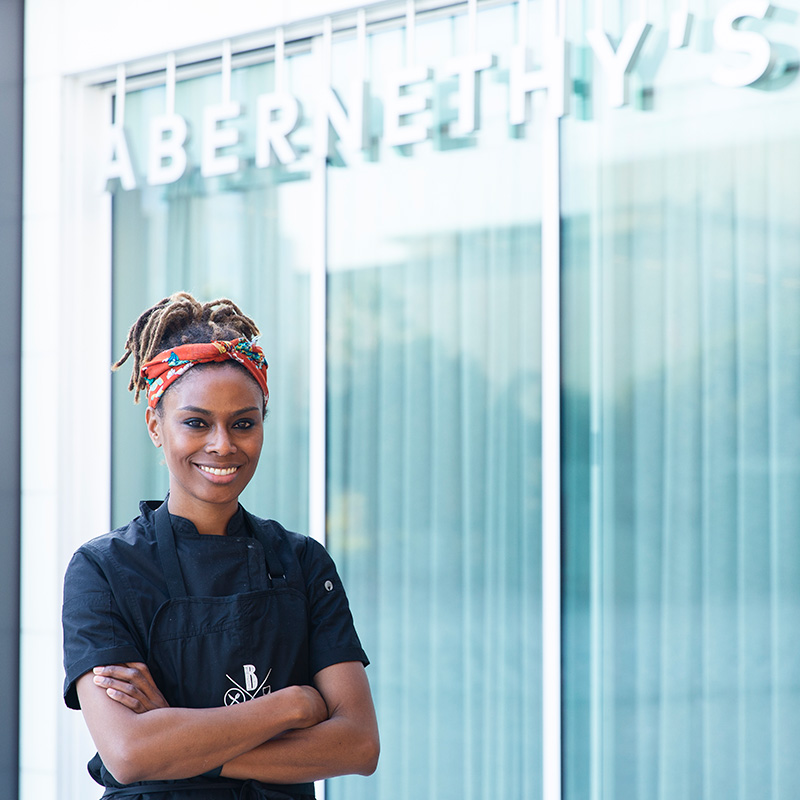 Chef Lenora Marouani, chef/co-owner of Barsha in Hermosa Beach and Barsha Wines & Spirits Tasting Room in Manhattan Beach, is an earthy personality, emboldened with a touch of fire.
Raised by a single mom in Hawthorne, CA, Chef Lenora came to grow and appreciate the art of simple cooking. With motivation from her mom and a particularly inspiring home economics class, Chef Lenora headed to Culinary School at Los Angeles Trade Technical-College where she graduated with a degree in Culinary Arts.
After working in various restaurants and hotels around Los Angeles, including the Ritz Carlton, Lenora made the trek to Las Vegas to further grow her career. While hunting down produce for a dinner service, Chef Lenora connected with now husband, Adnen Marouani. Read their love story, The Spinach Story.
After getting married, the couple traveled to Tunisia to meet Adnen's family. Upon arrival, Chef Lenora was met with a large celebration, commencing with the slaughter of a lamb and subsequent "best thing [she's] ever tasted," lamb's head soup. The community showed her the inherent beauty in the intersection of food and culture, and the internal wealth inherent in finding one's community. It became clear that after "feeling the hug" from the food, Chef Lenora's path was to share her own embrace with her community back home.
The celebration reminded Chef Lenora of the power and grace of the women in her life, and that abundance is internal, not any amount of wealth: the Tunisian women painting ceramics, weaving textiles, and cooking the welcome meal; and in particular, the matriarchs in her life; her mom and mother-in-law. In the years following, Chef Lenora and Adnen grew their family with the addition of two daughters and two businesses; Barsha and Barsha Wines & Spirits.
(Her daughters caught the entrepreneurial bug and even sold hand drawn stickers in the restaurant to help their parents get through the challenges of the pandemic!)
listen to chef lenora marouani's playlist
Empowered by the marriage of strength and beauty from the matriarchs in her life, Chef Lenora was off to the races, creating the same sense of warmth and community she experienced in her travels to Tunisia.
Barsha, meaning abundance in Tunisian, is a constant reminder to Chef Lenora, her husband, their children, and their extended Hermosa Beach family of the synchronicities of life and that, sometimes, if you're open to it, "good things come your way".
"Even if you do not have a concrete vision of the meal, if you start with one dish at a time, ultimately you can create your own grand feast" – Chef Lenora Marouani