Featured Chef
Abernethy's hosts a changing roster of Los Angeles' Emerging Chefs for their chance to showcase the unique voices, narratives, and culinary flavors of their slice of the city.
Currently in-residence, Chef Brad Willits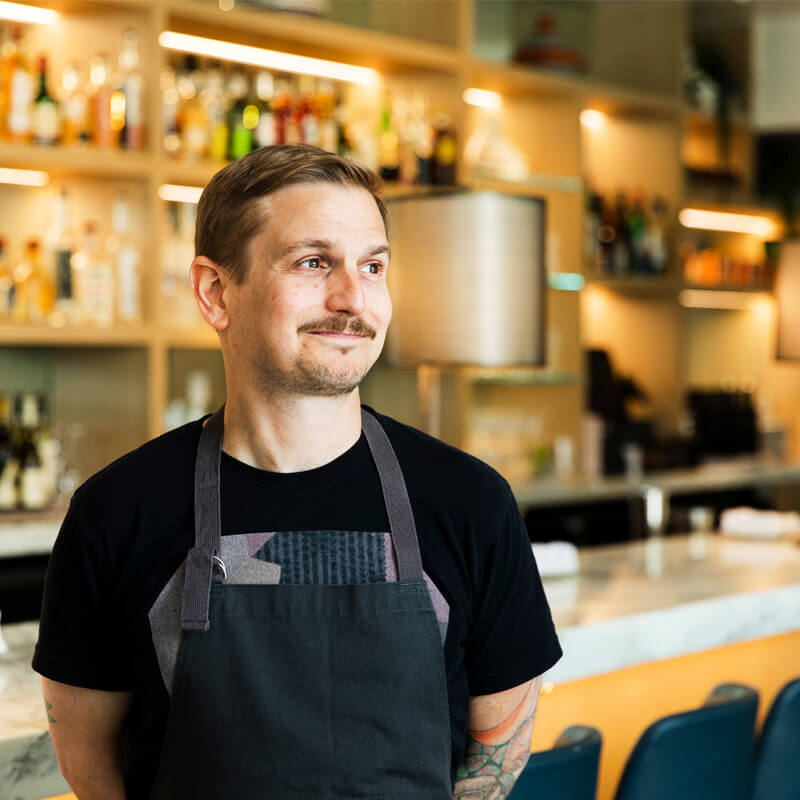 Brad Willits is an accomplished executive chef with over 20 years of experience in the culinary industry. He currently serves as the executive chef at Market Venice, a modern Italian restaurant located in the heart of Venice Beach, CA. Prior to this, he was a chef at Joint Venture, which owns Jon & Vinny's and Son of a Gun.
Prior to cooking in Los Angeles, Willits worked in his hometown of Vero Beach, Florida; Charleston, South Carolina; and Baltimore, Maryland along with his longest stint in New York City.
listen to chef brad willits' playlist
While in Vero Beach, Willits worked at the French American restaurant, Tangos, under the leadership of Ben Tench, the chef he credits with making him fall in love with cooking. After about five years working for Tench, Willits had the opportunity to work under Yannick Martin, a French chef opening a new restaurant in the area. With Martin, Willits was quickly promoted to sous chef and continued to grow his passion and talent for cooking.
After a brief stint working in Charleston, Willits found himself back in Florida to be closer to family. While there, he worked for Kimpton Hotels and rose through the ranks, eventually being asked to lead one of the organization's hotel restaurants in Baltimore. From there he made his way up the coast to New York.
While in New York, Willitswas the executive sous chef at Altro Paradiso, executive chef at Camperdown Elm, and held top-level roles at acclaimed spots Agern, Lupulo, and Aldea. His passion for cooking and his expertise in the culinary industry have garnered him numerous accolades and reviews from renowned publications such as Wine Spectator, The Infatuation, Vogue, WWD, The New York Times, New York Magazine, Eater, The New Yorker, CN Traveler, Kinfolk, and Time Out Magazine.
Some of Willits' most prized achievements include running two Michelin-starred restaurants, receiving Two-Stars from The New York Times for his work at Agern, and Two-Stars from The New York Times for his work at Lupulo.
As Abernethy's current emerging chef-in-residence, Willits is serving a contemporary Italian menu with Iberian influence derived from his upbringing and travels.